Critical Start Recognized by Dallas Business Journal as Best Workplace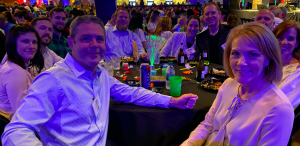 We've always known CRITICALSTART is a great place to work, and now we have additional proof. The Dallas Business Journal recently honored CRITCALSTART as one of the top 100 workplaces in North Texas, ranking 5th overall in the mid-sized company category.
Employee engagement and satisfaction played a primary role in the award criteria. CRITICALSTART scored a 94.10 out of 100, so clearly, we have a happy team! Other fun factoids:
90% of our employees are highly engaged and excited to work for the company.
Employees feel they have access to learning and development opportunities, according to 97% of the men and 82% of the women surveyed in our company.
Our culture works well for nearly every age group in our company, according to responses from 94 – 98% of employees across each of the generations.
"Challenging" is the best description of the CRITICALSTART work environment.
95% of CRITICALSTART employees feel valued by the company, as senior leaders see people as their most important resource.
Employees were invited to provide responses to several open-ended questions. One of the responses that best summarizes CRITICALSTART:
"CRITICALSTART has an amazing culture that is established from senior leadership and pushed down through the rest of the organization. Everyone in the organization is empowered to make decisions they have the most relevant information to make. Our workplace is fun and weird, with each employee bringing a different personality, skill set, hobby and quirk. We are a caring organization where new employees are additions to the family, and we take care of our own.
Finally, another says CRITICALSTART's "fail-fast and never alone culture helps us always do what's right for our customers and employees while holding to another core belief: Don't do things that suck!"
Thank you to all the employees at CRITICALSTART– we are who we are, because of you!
RESOURCE CATEGORIES